With the NetSuite Retail Management Suite and Retail Ahead, retailers can go the multi-channel route and run on a single, highly accessible, cloud-based, and integrated platform with a combination of POS features, CRM, accounting, and eCommerce features. Retailers can, with a single platform, ensure a unified customer experience, boost sales, work to provide more value and enhance their brand.
In a Part 1 post on how NetSuite aids retailers, we started with how NetSuite helps streamline retail businesses and how retailers can benefit from many of its features. We mentioned how NetSuite Retail Management Suite helps retailers can get closer to customers and develop a relationship with them, how NetSuite allows eCommerce integration by letting retailers add a fully integrated website as another channel, and how it makes POS (Point of Sale) work towards benefiting retail businesses directly. Here are some more of those benefits that NetSuite Retail Management Suite can provide:
Automated Marketing and better merchandising
Wouldn't you be able to serve your customers better if you could deliver orders quickly? When processes are streamlined, you can help clear operational bottlenecks, which in turn, lead to better customer service.
Using the NetSuite Multi-channel Retail Management Suite, you can calculate inventory re-order points automatically, keep tabs on stock and inventory levels – down to individual items and locations, help cross-sell better by using the automated product recommendation system (which is based on customer behavior and previous purchase trends), automate emails to shoppers when they abandon shopping carts (on your integrated eCommerce store), automate drip-email campaigns to unleash the power of email marketing, follow-up emails with coupon system to encourage customers to come back to shop and so much more.
What happens where? Now, you'll know
Businesses are run better when the dependency on information is reduced to automation rather than depending on human input. NetSuite Multi-channel RMS (Retail Management Suite), allows you to view the entire data from one department to the other. For instance, you'd have access to the data flow between your website and then to warehouses, accounting or finance department, and then to shipping and handling (imports and exports), etc. Real-time visibility of this data, as your business functions, can enable you to make quick decisions. Business intelligence gives you – the retailer – a competitive edge.
Metrics gives you power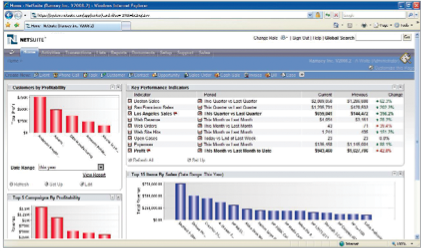 Key metrics are important for every business: for retailers, it's vital. Using these metrics, retailers can take corrective action, improve processes, better understand their customers and market to them more effectively, adapt marketing to suit customer tastes, cater to customer requirements and much more. NetSuite RMS understands that. As such, you'll have access to business intelligence, dashboard analytics, Key Performance Indicators (KPI), reports (complete with graphics and snapshots), KPI scorecards, and plenty of other business data to help you run your business smoothly.
As is evident, for every retail business that has an inherent need to do business better, NetSuite helps all along the way. From reporting to marketing, accounting to metrics, NetSuite Retail Management Suite is a robust tool that can handle it all.
Would you like to see it action? Do let us know and we'll be more than happy to show you how it works for your business. Please feel free to comment or contact us for more information.