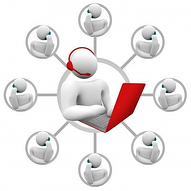 The worldwide PaaS (Platform as a Service) market is expected to be worth at least $12 billion by 2020, as predicted by Forrester Research. It seems like the next few years are going to commence the golden era for cloud computing services. This will also lead to numerous options for companies to choose from when deciding they want to implement a CRM system. This can be both good and bad news; sometimes too many options can make it difficult to choose the system that will be most beneficial for your company.
SaaS (Software as a Service) now allows CRM systems to run on the cloud, rather than the old fashioned way, when CRM systems were installed on-premise. This new CRM implementation method has multiple new benefits such as seamless integration, low-cost, and ease of use. To decide which CRM is the best fit for you isn't just about picking a solution off the shelf and running with it. Organizations are not all alike, and each business has its own structure and priorities. You might then wonder what the best way to select a CRM system is. What's the best way to go about choosing the best CRM solution for your business, given that there are no so many to choose from? Let's explore some guidelines that you should follow:
Evaluating Long-Term and Short-Term Impact
Adopting and implementing a new technology is never easy. This task becomes even more difficult depending on how much direct interaction your company has with customers. It is very important to make sure that your CRM selection works for you both in the short-term and long-term, because not all the options will. So, instead of viewing your CRM selection process as an isolated IT decision or a business decision, look at your CRM options with your enterprise strategy in mind. The best way to analyze if a CRM solution works for your business is to do a phased rollout. By implementing it this way, you will be giving yourself the best value early into CRM adoption. It will also allow you to reach complete integration as you grow with the system, rather than implementing everything at once, which could be a shock to your organization.
CRM Deployment needs the Best of the people
When you choose a CRM solution, you can't take a "let's see how it goes" or "we'll roll out and see what happens" approach. Rolling out a CRM system should only be done once you've made a firm decision to implement and systematize all of the customer-centric operations of your company, such as sales, marketing, lead generation, lead qualification, lead nurturing, and customer service. If you want this to succeed, you'll need the best of your staff (IT and non-IT) to sit in the driving seat. You need business-minded (almost entrepreneurial) folks to drive your CRM implementation effectively.
Read the Fine Print
Nothing defeats the purpose of a customer-centered business practice more than an insecure, unstable, and unpredictable system. Don't take anything for granted. No matter how well established or small your CRM vendor is, ask for a SLA (Service Level Agreement), all the requisite updates, and other such details that have a tendency to get buried in the fancy sales and marketing conversations. When choosing your CRM, look for service levels, reliability, and capabilities that would match that of an on-premise CRM system with IT staff and support. Web-based CRM solutions are great tools and they are the product of cloud computing, but these tools don't work by themselves and that's why you need robust vendor support, on demand.
Look For the Loose Ends
According to Enterprise Apps' "Guide for CRM Selection," some leading CRM solutions have everything going for them except that they don't integrate with your backend operations and other processes. If your business needs such integration, be sure to look out for these loose ends. You will need complete sales management systems, automated billing (with integration to your financial solutions), inventory management, semi-automated marketing, and everything else your company utilizes to be packed into a single solution. Adding on additional software can lead to incremental expenses that your company may not be prepared for.
If you'd like help picking the right CRM solution for your business, please don't hesitate to get ahold of us. We offer many CRM solutions, and can help you discover which solution will best accommodate the needs of your company. We'd love to connect with you.